Wieder in Fanal, im Nebeldschungel von Madeira
wir sind wieder in Fanal, Insel Madeira, in einem der ältesten Urwälder der Welt. Dieser Nebelwald ist seit dem Terziär fast unverändert und wir sehen hier die ältesten Lohrbeerbäume auf unserem Planeten. Seit 1999 gehört er zu dem Welterbe der UNESCO. Jedesmal wenn wir hierherkommen bieten Licht und Nebel neue Wege zur Lochkamerafotografie.
Wir wählten die Fujifilm Finepix T-X20 mit 24mm Skink Pinhole Pancake zum fotografieren. Durch den lichtstarken Sensor unserer Kamera konnten wir ohne Stativ mit ISO 4000 bequem diese faszinierende Athmosphäre geniessen.
Kamera: Fujifilm Finepix X-T20
Objektiv: Skink Pinhole Pancake mit Lochblende 0.2
Brennweite: 24mm
ISO: 4000
Film Simulation: Fuji Velvia
Linkes Wahlrad: [S]
Belichtungszeit: zwischen 1/15 Sek. und 1/125 Sek.

 

 
Again in Fanal – foggy jungle of Madeira
we are again in  Fanal, Madeira Island where we find the oldest laurel forest in the world. It dates back to the tertiary age and was World Natural Heritage decreed by UNESCO in 1999. Every time we visit this magic forest, the fog and lighting changes, opening new opportunities for pinhole photography.
What a joy to take pinhole photos on another foggy day. Our pinhole camera was the Fujifilm Finepix X-T20 with the Skink Pinhole Pancake, 24mm focal length attached. The sensor of the camera is very sensitive. With a high ISO setting no tripod is needed anymore to take beautiful pinhole shots.
Camera: Fujifilm Finepix X-T20
Lens: Skink Pinhole Pancake mit Lochblende 0.2
Focal Length: 24mm
ISO: 4000
Film Simulation: Fuji Velvia
Left Dial on Camera: [S]
Exposure time: between 1/15 Sec. and 1/125 Sec.

 

 
Jurassic (?) Bos Taurus or cows
Our bestseller, the Skink Pinhole Pancake for Fujifilm Finepix FX:
Skink Pinhole – flickr
Skink Pinhole – flickr
__________________________________________________________________________________  
shop navigation
__________________________________________________________________________________      
Agfa
Bessa
Canon
Contax
FED
Fujifilm
Hasselblad
Horseman
Leica
Linhof
Lumix
Minolta
Nikon
Olympus
Panasonic
Pentax
Ricoh
Samsung
Sigma
Sinar
Sony
Tachihara
Toyo
Voigtländer
Wista
Yashica
Zeiss Ikon
Zorki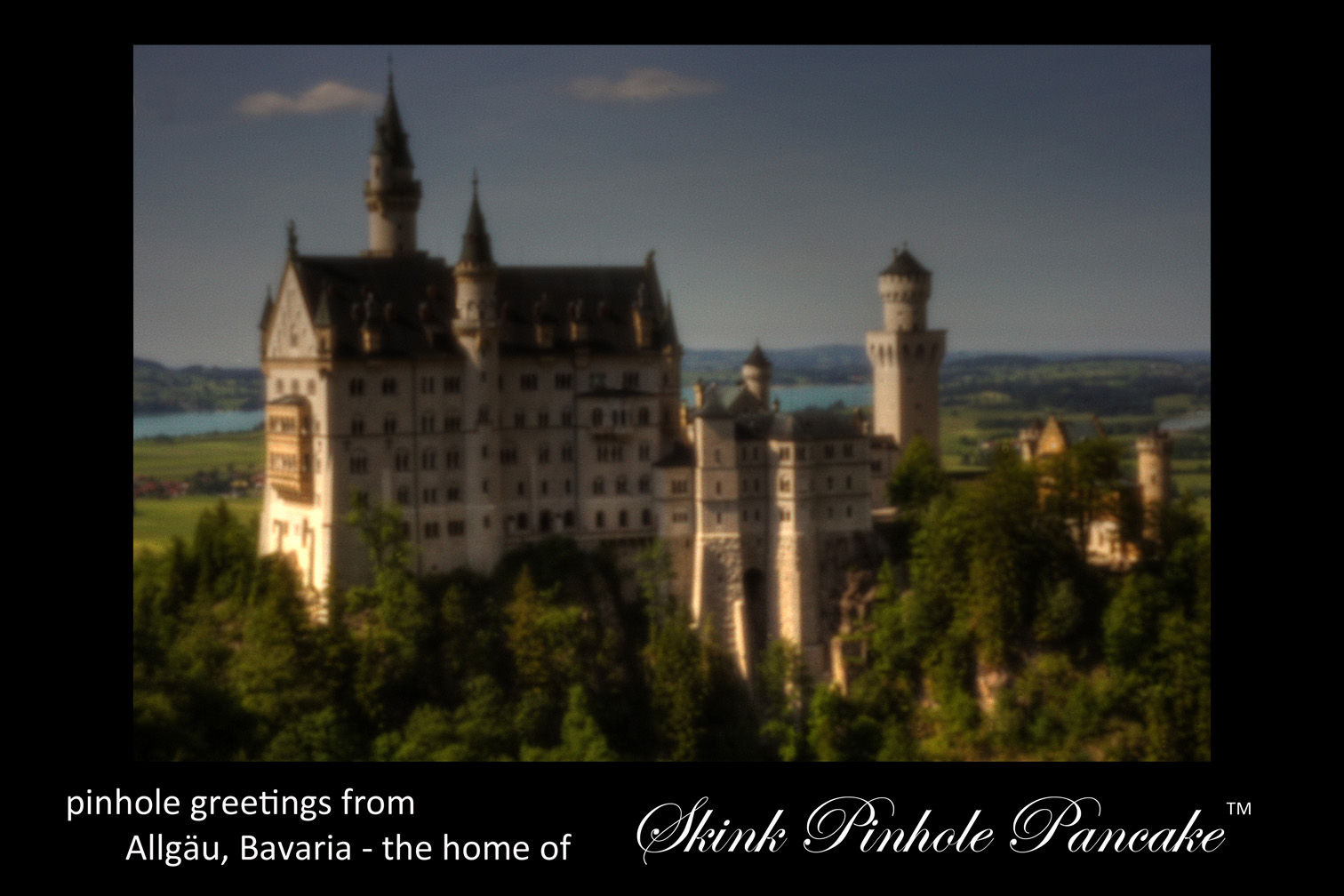 ---
sicher bezahlen / secure payment:
---
Banküberweisung / Bank Transfer (IBAN / BIC / SWIFT)
Deutsche Bank Privat- und Geschaeftskunden AG
---